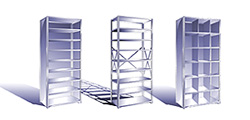 Bryton is proud to represent custom steel shelves manufactured by Amscor. The "American Steel Corporation" has been producing high quality steel shelving for over 50 years.

With their extensive inventory,(100,000 shelves in stock) we can provide complete custom shelving designs, sizes, configurations, and colors in lead times unheard of in the industry!! This full spectrum product line includes the widest range of sizes available today, open and closed styles in standard and heavy duty models, 16 standard colors plus custom color matching services, free design and layout services, bin style units, truck units, wall units and a huge assortment of accessories to complete the job.

Some users of our shelving include records storage, libraries, accounting and legal, media storage, tool rooms and warehousing. The full product line also includes workstations, cabinets, warehouse desks, bookcases and carts. Even with the high priority on quality, Amscor's products are priced competitively to not only offer the customer a value, but allow the distributor an advantage over other brands.